In March 2018, I received an invitation to collaborate with Forest Foundation Philippines, a non-profit organization that provides grants that empower the people to protect the forests. We put our minds together and discussed how we could combine our respective skills and resources in order to promote the importance of Philippine native trees in ecological restoration. Native trees are the foundation of our ecosystem but we are losing them to deforestation at an alarming rate. By raising awareness, our collaborative goal is to grow more forest advocates.
This gave birth to the #DrawNativeTreesPh project, an awareness campaign to engage the public to become advocates of forest conservation and protection through art. 
Currently on its 3rd year (as of this writing: June 7, 2021), the #DrawNativeTreePh umbrella concept has brought about some fun projects –
* Philippine Native Trees Social Media Drawing Challenge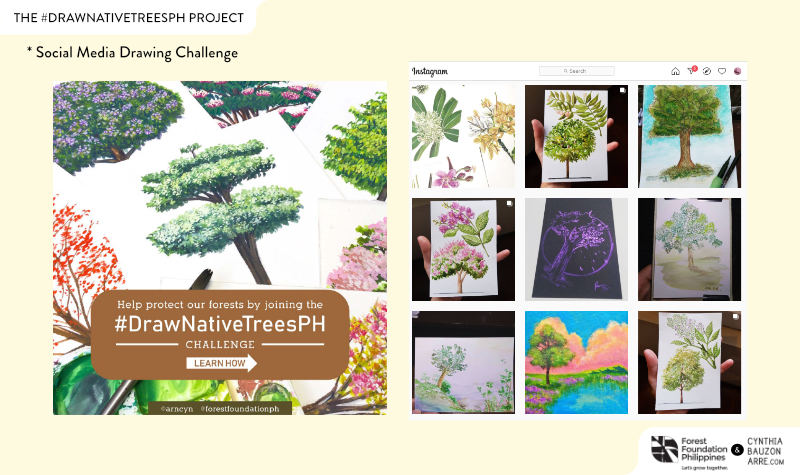 See entries (scroll to the bottom) and drawing challenge winners
* Philippine Native Trees Drawing Tutorials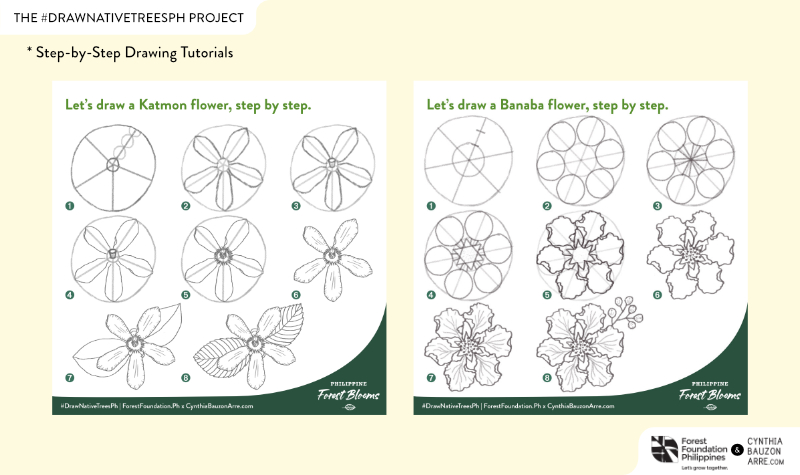 Links to tutorials: Katmon / Banaba / Ilang-Ilang / Narra / Pedada / Ipil
* Watercolor Workshops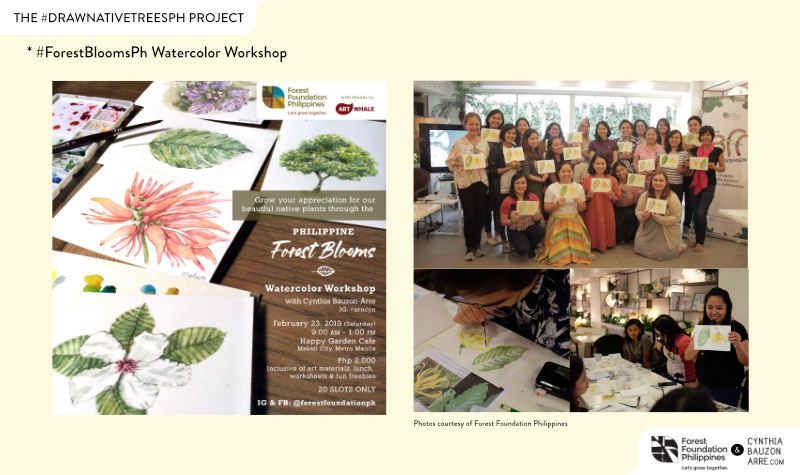 Post-workshop update: Forest Foundation Ph on Facebook (July 16, 2019)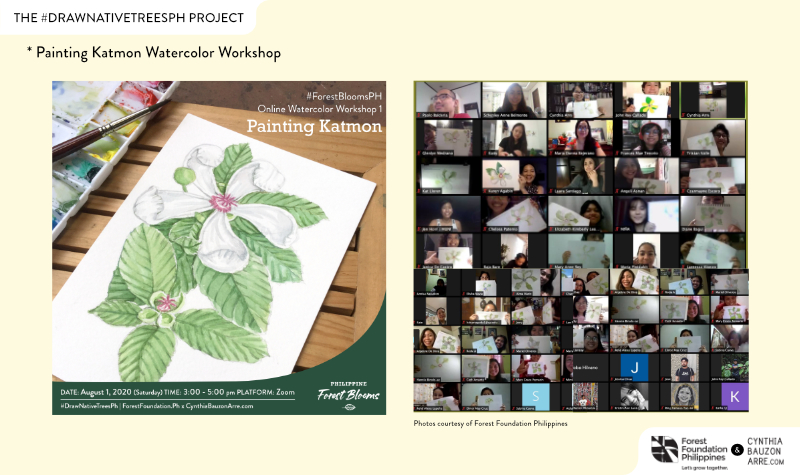 Post-workshop update: Forest Foundation Ph on Facebook (August 13, 2020 
* ForesTree Memory Match-up Game App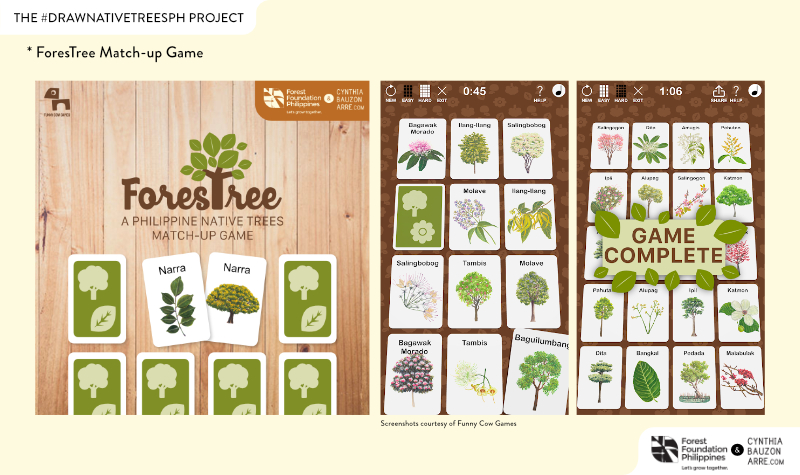 Collaboration with Funny Cow Games. More info on the game and project here.
* ForestBloomsPh Instagram Story Stickers
View this post on Instagram
* The Philippine Forest Informational Series which includes stationery and functional items which I sell in my online shop. A portion of proceeds go to the creation of more items that can support the advocacy, so the product line just keeps on growing and growing — all from the initial funding capital provided by FFP.
** Philippine Forest Blooms (#ForestBloomsPh)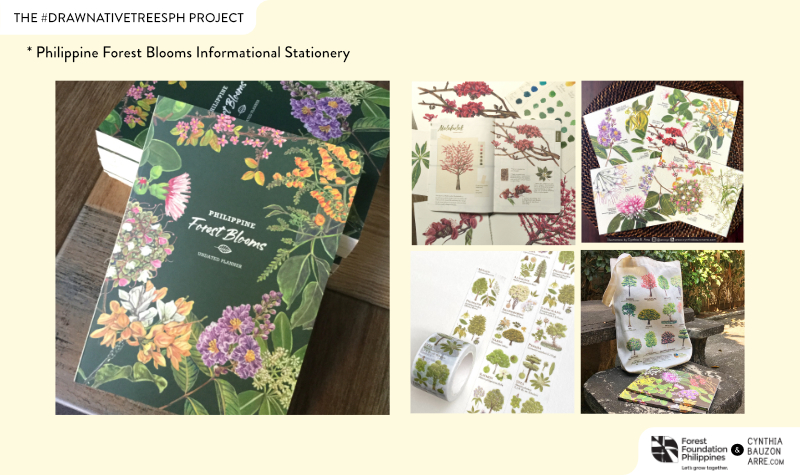 Links: #ForestBloomsPh Planner / Note Cards / Washi Tape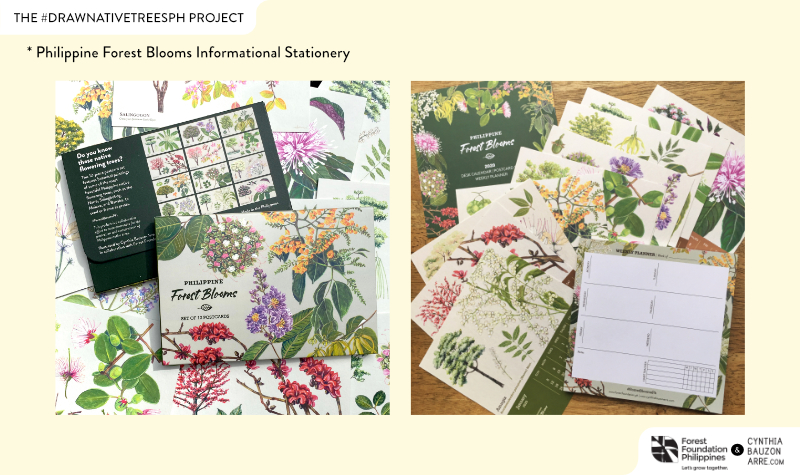 Link: #ForestBloomsPh Postcard Set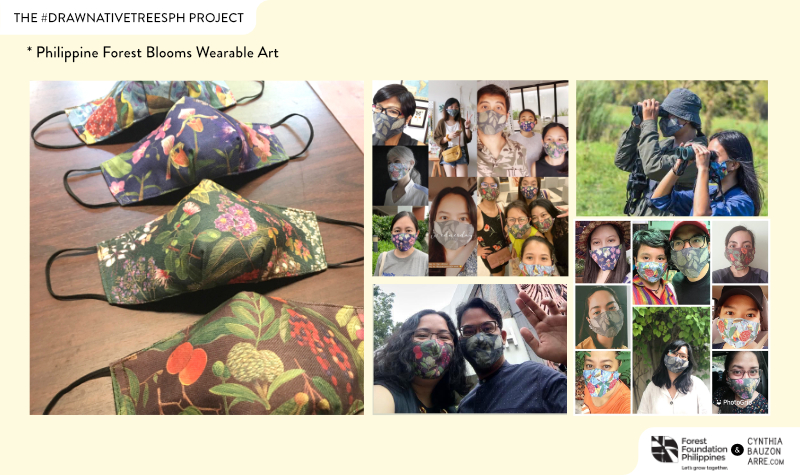 Link: #ForestBloomsPh Face Masks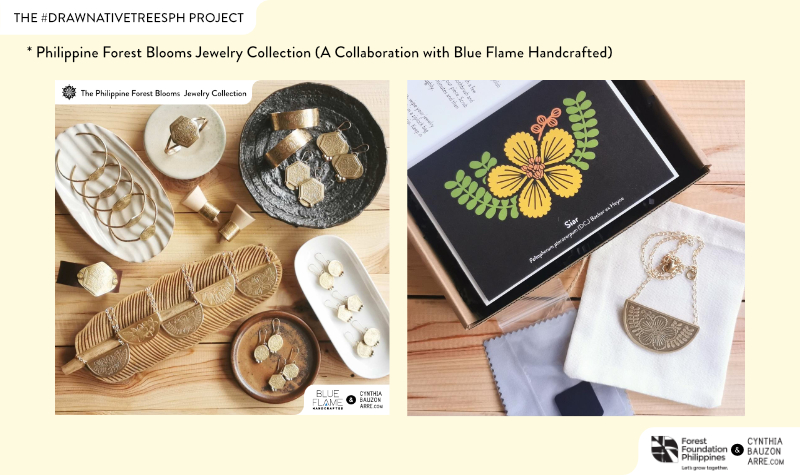 Collaboration with Blue Flame Handcrafted. More info on the #ForestBloomsPh Jewelry Collection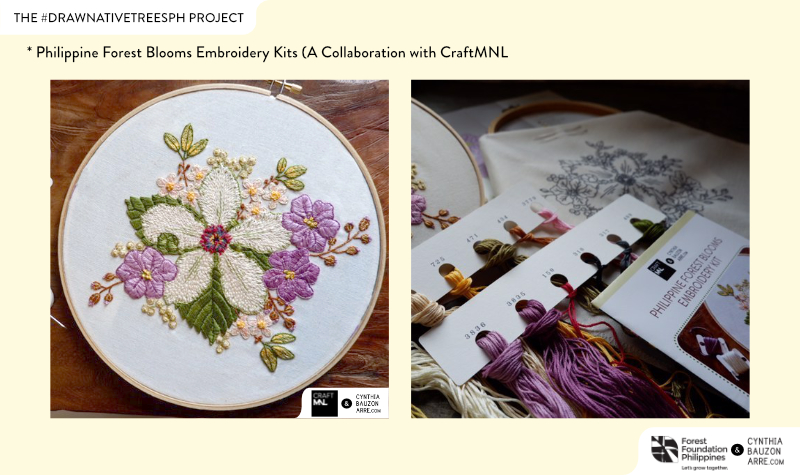 Collaboration with CraftMNL. More info on the #ForestBloomsPh Embroidery Kits (coming soon)
** Philippine Forest Fruits (#ForestFruitsPh) and Birds (#ForestBirdsPh)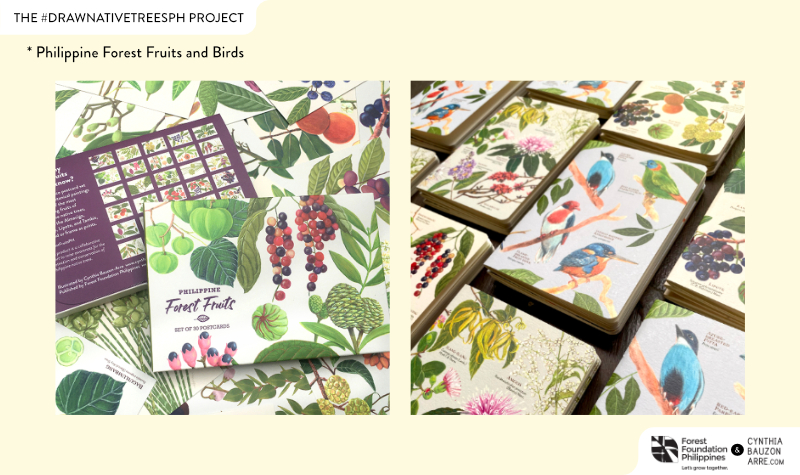 Links to #ForestFruitsPh Postcard Set / ForestPh Series Notebooks

** Philippine Forest Reflections (#ForestReflectionsPh)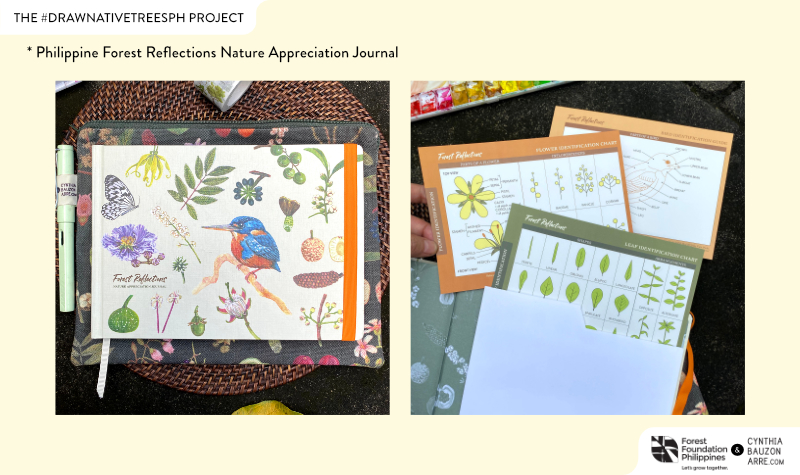 More info on the #ForestReflectionsPh Nature Appreciation Journal
** Philippine Forest Produce (#ForestProducePh)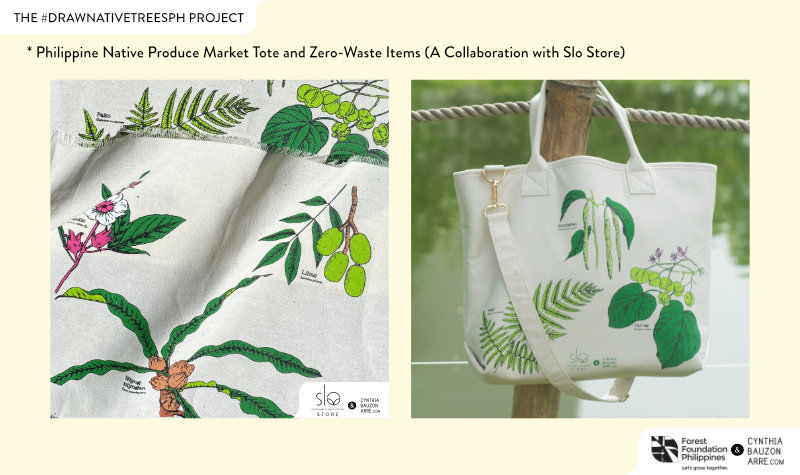 Collaboration with Slo Store. More info on the #ForestProducePh Zero-Waste Items.

** Philippine Forest Landscapes (#ForestLandscapesPh) – work in progress
** Creative Fundraising Efforts
One of the most amazing outcomes of this campaign is that some of the projects have allowed me to give back and contribute to forest protection efforts such as fund raising for forest rangers and typhoon / flood victims:
– P19,250 raised in June 2020 for the Ipo Watershed Bantay Gubat via sales of #ForestBirdsPh prints
– P75,000 raised in November 2020 for Typhoon Ulysses flood victims via sales of #ForestFruitsPh prints
– P25,000 raised in May 2021 for the Ipo Watershed Bantay Gubat via sales of #ForestBloomsPh Jewelry
I have gained so many learnings from working on this campaign, and it's especially rewarding to receive feedback from people who say that they discovered the beauty of Philippine native trees through the work. The ideas really do keep.sprouting organically and I'm excited to see what else it will produce in many years to come. <3
* My presentation in Forest Foundation Philippines' Understory April 23 Webinar gives an overview of the campaign and a behind the scenes look on its implementation (video embedded below).
** Media Features
– Design: Keeping Filipino Native Trees Alive Through Art – The Beautiful Works of Cynthia Arre for the FFP | Adobo Magazine
– Forget cherry blossoms. Stop and draw our own flowering trees. | NoliSoli
– Her Groundwork for the Native Flora and Fauna | Business Mirror
– Arts for Conservation Episode | MUNI on this Podcast
– Promoting Forest Conservation and Heritage Preservation Through Art | DZUP Atin 'To Interview
– Drawing Native Trees for Conservation – Presentation + Demo | Ang InK
Sending out a great big thanks to the FFP Project Management Team who has inspired, guided, and encouraged me to pursue this meaningful path. <3
– Schenley Anne Belmonte
– Diane Estephanie Bagui
– Bryan Joel Mariano
– Ana Veronica Gabriel
– Marjorie Pamplona
– Eric Buduan
– Atty. Jose Andres Canivel