How are you holding up during this challenging period? Very grateful to the people holding the fort – our frontliners who are bravely risking their lives in service of the community and our country. Also trying to do my part – however small – by donating whenever and whatever I can, practicing physical distancing, and doing my best to stay healthy for the sake of my loved ones.
Last week, I posted my postcard that says "Kapit lang" ("Hang in there") on Instagram and Facebook and received feedback that it could make a nice desktop wallpaper too — so here they are. They come in three sizes – one for desktop, one for mobile, and an eCard sized one for sending to friends and loved ones. 🙂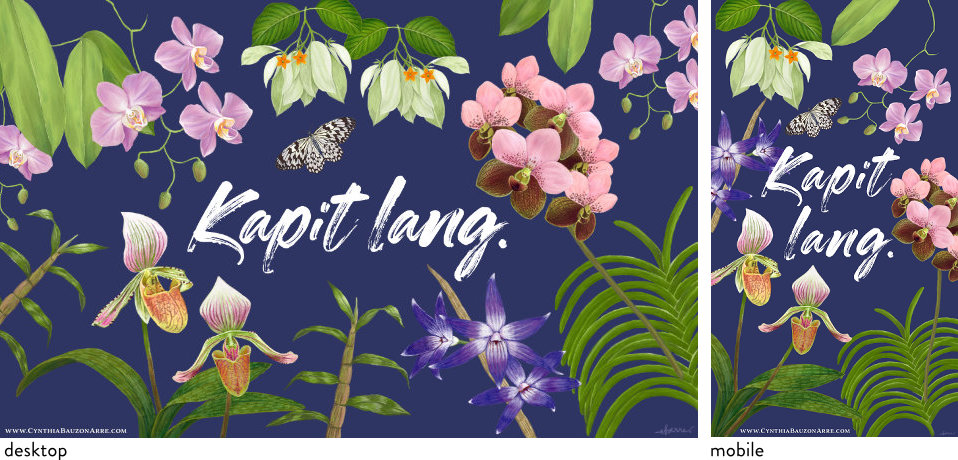 Download links:
Kapit Lang desktop wallpaper (2880 x 1800)
Kapit Lang mobile wallpaper (750 x 1334)
Kapit Lang eCard (700 x 438)
I also made another one that asks, "Kaya pa?" (loosely translated, "Can you still handle it?") and it comes in all sizes too.
Download links:
Kaya pa? desktop wallpaper (2880 x 1800)
Kaya pa? mobile wallpaper (750 x 1334)
Kaya pa? eCard (700 x 438)
If you think these could cheer up someone you know especially at this time of uncertainty, please feel free to share these with them too. 🙂
Both designs feature flowers of Philippine native trees and plants. Can you name any or all of them?
If you want to receive a message when I have new freebies (downloadables, printables), you can leave a comment below, and don't forget to tick the box. I promise not to use your address for anything else except for announcing when there's something new. 🙂
Share and connect on social media: