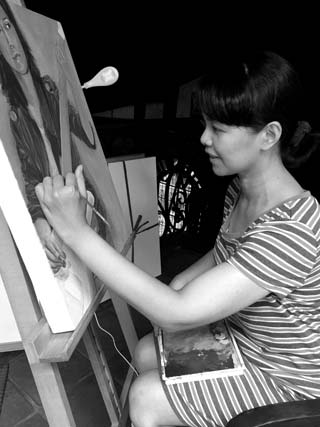 A few things you might want to know before we work together.
I've worked in the creative fields of advertising, publishing, and graphic design since graduating from the University of the Philippines College of Fine Arts. I also took art and typography courses at Parsons School of Design in New York in an effort to elevate my skill sets.
My early freelancing life revolved around album packaging design where I collaborated mainly with rock bands like the Eraserheads, Sandwich, and Itchyworms (you can see some of the work we did in this blog post or at the old portfolio site). But then digital media happened so I needed a Plan B…
… which  turned out to be a (then) brand new bridal magazine called Wedding Essentials where I held the position of Design Director for five years (or 14 issues) until the desire to work from home 100% took over.
A few years ago, I felt an urge to rediscover painting (the cringe-worthy progress is documented on Instagram) and it led to finally holding my first solo exhibit, "Girl Jam" which featured 12 talented women in the Philippine rock scene.
While my body of work has its roots in Philippine pop culture, recently I've been drawing inspiration from nature and it has opened my eyes to important environmental & societal issues. On this note, I am definitely open to working on projects that will benefit and impact the greater community.
If you'd like to explore working together – or maybe you just want to say hi?  – please don't hesitate to leave a note below.
For a nore detailed listing of my work experience, please connect with me on LinkedIn.
Expertise
Print design
Packaging design
Surface pattern design
Watercolor illustration
Digital illustration
Visual identity
Art direction
Let's discuss your project.